Wasim Zafar tweeted about Rabindra Jadeja, 'Rabindra Jadeja can turn a match around just by fielding. You can win the match with the bat. Can win the series with the ball in hand. A perfect all-rounder.
India and Sri Lanka took to the field today on the second day of the Mohali Test wearing black armbands. A minute's silence observed before the start of the day's play to mourn the deaths of two legendary Australian cricketers, Rodney Marsh and Shane Warne. After that, Rabindra Jadeja was unbeaten on 45 runs in 'Show' — the day before, he has pulled the innings today to his career-best unbeaten 165 runs.
Jadeja set a personal record for India in the seventh over
After India declared their first innings at 574 for 6, Sri Lanka batted and finished the second day at 106 for four. The visiting team still needs 26 runs to avoid the follow-on. 1 of India's 4 wickets in Jadeja's left-arm spin.
Kapil Dev played an innings of 163 runs in seven Tests against Sri Lanka in 1986. So far, Kapil's innings have been India's highest individual run in a Test at seven. Today, the star all-rounder Jadeja has set a new record by leaving behind the legendary all-rounder of India.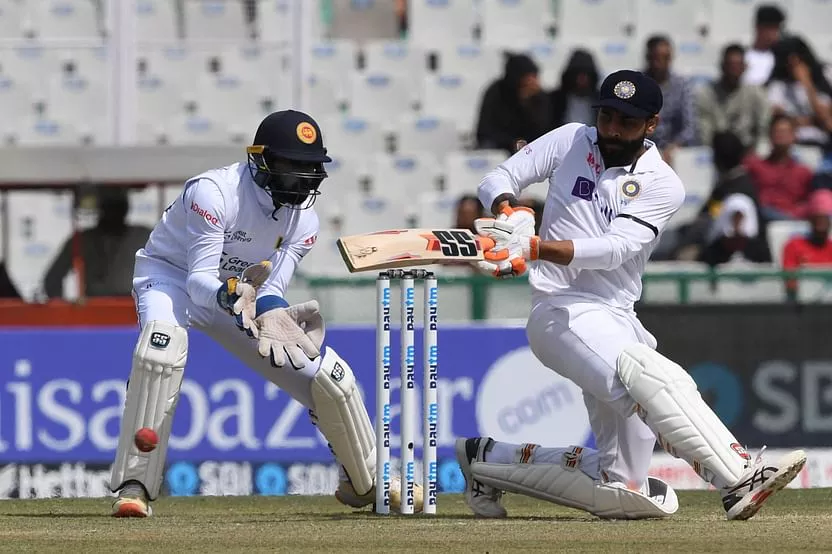 There is another statistic that is quite interesting – another batsman named 'R Jadeja' has played a career-best 165-run innings before coming down to seven. He is the legendary Maharaja Ranjit Singh of India. He was named Ranjit Singh Jadeja after his birth. Ranjit Singh, who played 15 Tests for England, scored 175 runs in seven overs against Australia in Sydney in 1896.
Jadeja put on 104 for the sixth wicket with Rishabh Pant to lift his second Test century. Jadeja made a 130-run stand with Ravichandran Ashwin for the seventh wicket. After Pant got out for stormy innings of 96 off 96 balls. Ashwin scored 61 runs. After a 103-run stand with Mohammad Shami for the ninth wicket, India captain Rohit Sharma declared the innings. Shami was unbeaten on 20 runs. After that tea break was announced.
Read More: Paralympics 2022: Preview, Schedule, How to watch, and More
Sri Lankan captain
Dimuth Karunaratne
also contributed to Jadeja's innings of 3 sixes and 16 fours off 228 balls. After Jadeja 'set' on the wicket, he spread the fielders to the boundary. Karunaratne has fielders in Long On, Long Off, Deep Midwicket, Deep Extra Cover, and Deep Fine Leg. It becomes easy for Jadeja to bat without pressure.
However, there is no time to question Jadeja's great batting. Jadeja hit a huge six off Dhananjaya de Silva. After Jayant Yadav was out, the all-rounder batted with open arms as soon as Shami went to the wicket. For this reason, Jadeja's single contribution in the partnership with Shamir was 81 off 80 balls.
There is speculation as to why Rohit declared India's innings before Jadeja picked up a double century. Jadeja himself told the media that after the ball started turning in the wicket, he himself hinted to Rohit to declare the innings. Jadeja saw an opportunity to pick up a few wickets with the ball as the Sri Lankan team was 'tired'. Sri Lanka lost the first four batsmen by 103 runs. Jadeja picked up Karunaratne who scored 28 runs. Ravichandran Ashwin took 2 wickets for 21 runs.