The long waiting, suspense, and worries are almost over. 28 teams are already qualified and booked their place for the greatest sporting event on earth and the FIFA World Cup 2022 draw has been done. Including the host nation, Qatar, of the FIFA World Cup 2022, 29 teams are now knowledgeable about their opponents in the upcoming mega-event.
Newer things in FIFA World Cup 2022:
This year's world cup is going to be the witness of many histories, that's for sure. However, it has already made many as it's the first time this world event will be hosted by an Arab nation. The world cup moves from May, June, or July to November and December due to the extreme heat of the hosting nation. The previous 21 times, nothing like this had ever happened. Added to that, this will be much shorter too, a journey of 28 days to be precise. Starting from 21 November to 18 December.
FIFA World Cup 2022 Draw:
The draw has taken place at the Doha Exhibition and convention center at 19.00 (local time) on 1 April. There were 4 pots. Arranger Qatar is the first team on the list which makes them A1 in pot 1. Top-ranked seven teams joined them in the same pot. In pot 2, the team ranked 8-15, in pot 3, according to FIFA ranking, the team seated from 16-23. Pot 4 holds the teams that are coming from the qualifier round playoffs and ranked 24-28. 3 teams are yet to confirm their spot.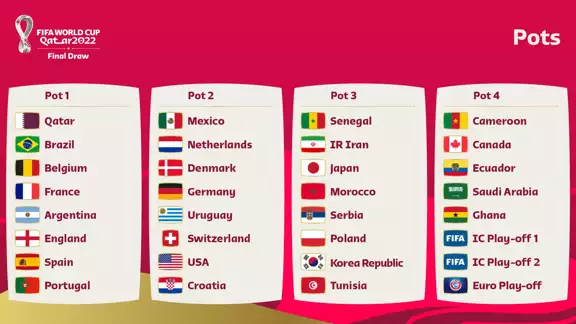 Pot 1– Qatar, Brazil, Belgium, Argentina, France, England, Spain, Portugal.
Pot 2– Mexico, Netherlands, Denmark, Germany, Uruguay, Switzerland, USA, Croatia.
Read More: Sweden vs Poland: World Cup Qualifier 2022 Preview, Time, Head To Head And Live Stream
Pot 3– Senegal, Iran, Japan, Morocco, Serbia, Poland, Korea Republic, Tunisia.
Pot 4– Cameron, Canada, Ecuador, Saudi Arabia, Ghana, IC Playoff 1, IC Playoff 2, Euro Playoff.
FIFA World Cup 2022 Draw result: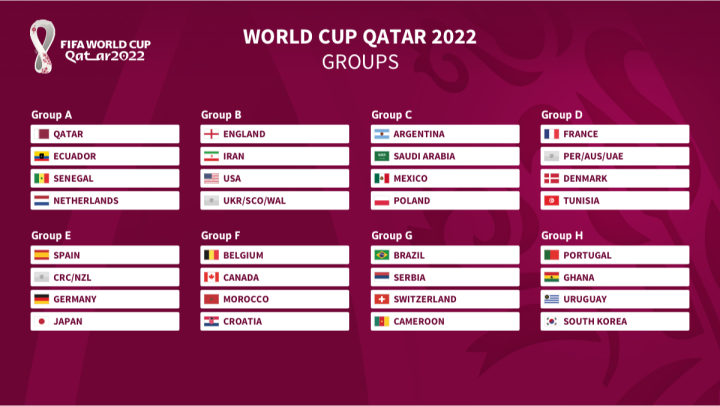 Group A: Qatar, Ecuador, Senegal, Netherlands.
Group B: England, Iran, USA, Wales/Scotland/Ukraine.
Group C: Argentina, Saudi Arabia, Mexico, Poland.
Group D: France, Peru/Australia/UAE, Denmark, Tunisia.
Group E: Spain, Germany, Japan, Costa Rica/New Zealand.
Group F: Belgium, Croatia, Morocco, Canada.
Group G: Brazil, Serbia, Cameron, Switzerland.
Group H: Portugal, Ghana, South Korea, Uruguay.