Introduction
Manny Pacquiao who is known as "Pac Man" is a Professional Boxer, Singer & Media Celebrity, and Politician from the Philippines. Manny became world-famous for winning more titles in boxing than any other player in history. He rose from extreme poverty to the high end of a luxurious life by making himself the most title-winning boxer and later he became Senator of Philippines.
Manny Pacquiao Career
Boxing
Manny started his boxing career at the age of 16. He won his first world title in the year of 1998 against Chatchai Sasakul of Thailand. After that, he won 10 titles in a row of 8 different weight divisions.
Manny was the first boxer in history to win a world title in 8 weight division. He also won the lineal championship in 5 weight classes. He was also the first boxer to win the major titles in the "glamourous division" of all 8 weight classes. Manny is the 4 decade (1990, 2000, 2010, 2020) world champion.
In 2003, Manny Pacquiao was elected "The Person of the year of Philippines". He was featured in "the Times Magazine of Asia" in 2009 and also featured in "the Time's 100 most influential People" in 2009.
His fight generated a lot of revenues for Tv and Media. Manny generated more than 20 million USD for PPV (Pay Per View). He was declared the world's 2nd most paid athlete in 2015 by "The Guardians".
The Fight Of The Century: Manny Pacquiao vs. Floyd Mayweather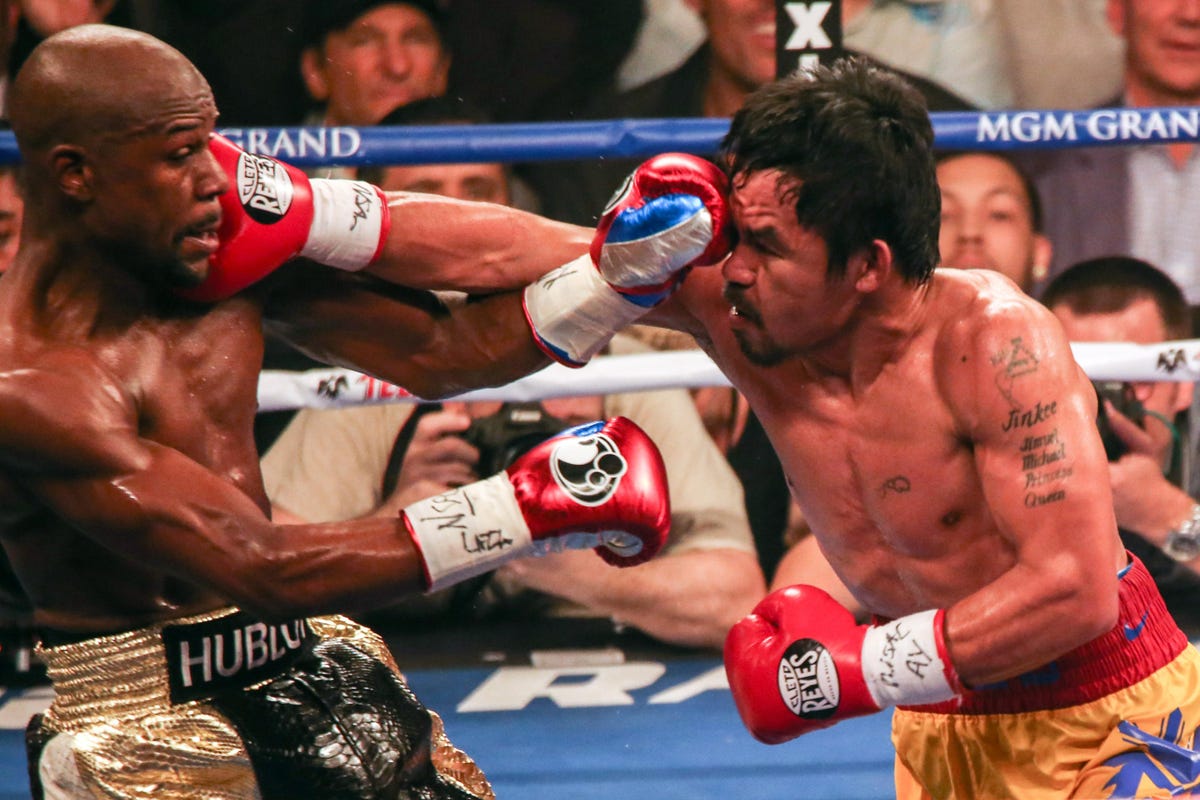 In the year 2015, The Fight Of the Century took place between Manny Pacquiao vs. Floyd Mayweather. The prize money was reported to be 300 million USD. Mayweather won the fight in a unanimous decision. After the Lost, Manny's boxing record was 57 winning, 6 losses, and 2 draws.
Music & Other Sports
Manny released two music albums and acted in several movies. He was a life-long fan of Basketball also later he placed his intention to Philippine's Basketball Association for the Head coach of the Kia Motors Team. He was the shortest player in the Basketball League of Philippines' history.
Political Career
In 2009, Manny formed a new political party named "the Peoples Champ Movement" and announces his presence in politics. He declares his candidacy for a legislative seat in the district of Mindanao where he owned overwhelmingly and retained his seat in the consecutive election. Manny announced his candidacy for Presidency in 2021 for the next election.
Manny Pacquiao Personal Profile:
| | |
| --- | --- |
| Full Name | Emmanuel Dapidran Pacquiao Sr. |
| Nickname | PacMan |
| Birth Date | December 17, 1978 |
| Age | 42 |
| Birth Place |  Kibawe, Bukidnon |
| Nationality | Filipino |
| Profession | Professional Boxer, Media Person, and Politician |
| Debut | 1994 |
| Religion | Evangelical Protestant |
| Zodiac Sign | Taurus |
| Height | 166 |
| Weight | 68 |
| Father | Rosalio Pacquiao |
| Mother | Dionisia Dapidran Pacquiao |
| Marital Status | Married, 1999 |
| Wife | Jinkee Jamora |
| Children | 5 |
| Net Worth | $375 Million |