The women's final match at Wimbledon will take place on Saturday, July 9, and will feature Elena Rybakina versus Ons Jabeur. Read the following article for a preview, as well as predictions, odds, and information on how to watch The Rybakina vs Jabeur 2022 Wimbledon Final.
Preview
On Saturday, July 9, Elena Rybakina and Ons Jabeur will play in the women's final match at Wimbledon. The winner of this match will take home the trophy. Since neither of them has ever won a Grand Slam tournament before, this could be a turning point in their careers.
When they play in the final of the women's singles competition at the 2022 Wimbledon Championships on Saturday, world No. 2 Ons Jabeur and 17th seed Elena Rybakina will both be trying to win their first Grand Slam title.
Jabeur has been having a great run of success for the past six months. Her clay swing was a dream, and it paid off when she won the best title of her career so far in Madrid. She came in second place in Rome and Charleston, too.
Moscow-born Kazakh Between now and then, Elena Rybakina has had a great start to the 2022 season. In the final match in Adelaide, she lost to Ashleigh Barty, who was ranked number one in the world at the time.
Since then, it has been hard for the 23-year-old athlete to reach those heights again. The 23rd-ranked player in the world couldn't build on his excellent start to the year because he got hurt and got sick a lot.
Rybakina then played in 13 more tournaments before she got to Wimbledon. The BNP Paribas Open was the only one where she made it to the quarterfinals.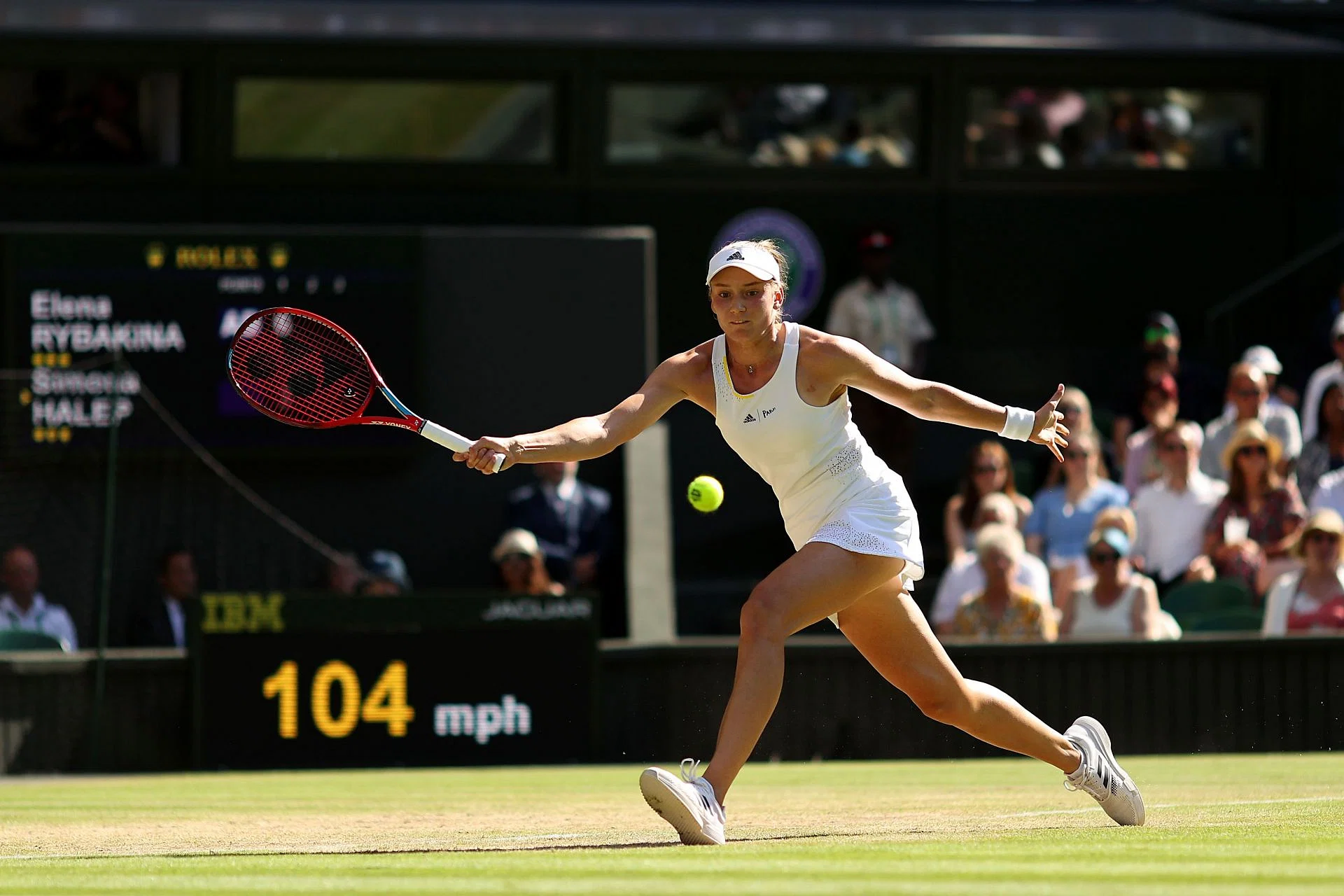 Both players have made it so that they will play with each other in the championship match, which has never happened before. In doing so, they have made history. Rybakina made history by being the first player from Kazakhstan to reach the women's final at Wimbledon. Jabeur also made history by being the first player from Africa to do so.
Also, both of the competitors made it all the way from the preliminary round to the final game. Rybakina was able to win against Coco Vandeweghe, Bianca Andreescu, Zheng Qinwen, Petra Martic, Ajla Tomljanovic, and Simona Halep. Jabeur overcame Mirjam Bjorklund, Katarzyna Kawa, Diane Parry, Elise Mertens, Marie Bouzkova, and Tatjana Maria.
When is Rybakina vs Jabeur 2022 Wimbledon final?
2022 Wimbledon Final between Rybakina and Jabeur is going to start at 9:00 AM ET on 9 July Saturday.
Where is Rybakina vs Jabeur 2022 Wimbledon final?
Rybakina vs Jabeur match is going to take place at the center court of Wimbledon, All England Club.
Rybakina vs Jabeur head-to-head
Ons Jabeur is ahead of Elena Rybakina in their head-to-head matchup by a score of 2-1. In 2019, the Kazakh team beat the Chinese team for the first time in Wuhan. They won in three sets. In 2021, in Dubai, Jabeur won the match in three sets to get even for losing the first time.
The last time they played was in Chicago in the fall of last year, and Rybakina quit when his opponent had a 6-4, 3-2 lead.
How to Watch Rybakina vs Jabeur Wimbledon Final 2022?
UK:
BBC
BBC iPlayer
Eurosport
Discovery Plus
USA:
ESPN
Tennis Channel will live telecast the Rybakina vs Jabeur match

Peacock, Sling TV, Fubo TV, DirecTV Stream (Live Streaming)
Australia:
Channel Nine
Nine Plus
Stan Sports
Canada:
France: beIN Sports
Germany:
India: Star Sports
Italy:
Rybakina vs Jabeur Odds
| Players | Spread | Moneyline | Total |
| --- | --- | --- | --- |
| Elena Rybakina | +2 (-110) | +130 | Over 22 (-105) |
| Ons Jabeur | -2 (-120) | -155 | Under 22 (-125) |
*According to Betmgm
Rybakina vs Jabeur Predictions
A week before her first-round match at Wimbledon, Jabeur won the Berlin Open grass-court tournament, where she only lost one set. With this win, she won the second grass-court championship of her career. In London, she continued to show how good she was on the court, as shown by the fact that she is now unbeaten in 22 of her last 24 matches and has won 11 straight matches.
Since the start of 2021, Jabeur has won 84 matches, which is more than any other woman on tour and three more than Iga Swiatek, who is ranked first in the world. Swiatek was the favorite to win Wimbledon, but he lost in the third round. Jabeur has more wins than Swiatek by three.
After her match against Rybakina on Saturday, Jabeur will play her fifth and last match of the year. She has been in four finals, and she has won two of them. The Berlin Open and the Madrid Open were both played on clay.
Rybakina, on the other hand, has only been in one final this season before the Wimbledon tournament. Ashleigh Barty, who was ranked No. 1 at the time, beat her in the final round of the Adelaide International, which was played outside on a hard court, in January. On the other hand, Rybakina has done very well at Wimbledon. In her two main draw matches at Wimbledon, she has gone 8-1 at The Championships.
Still, the 23-year-old athlete has never won a match against a player ranked No. 1 or No. 2, and she has lost to a Top-10 player in each of her last four finals, all of which were in 2020 or later.
The up-and-coming tennis player is 1–2 against Jabeur, and all of their matches have taken place on hardcourt. The last time they played against each other was in the 2021 WTA Chicago Fall Tennis semifinal.
Rybakina showed her toughness against Halep in the Wimbledon semifinal, and Jabeur will have a hard time beating her on Saturday. However, the Tunisian will win her first Grand Slam title and become the sixth different woman to win Wimbledon in the last six years. This will be the sixth time in the last six years that a different woman has won Wimbledon.
Prediction: Ons Jabeur will be the winner of the match in three sets.
Read Also: Wimbledon 2022: Djokovic reached the Wimbledon final for the eighth time after losing to Norrie