Introduction
Khabib Nurmagomedov is a Russian Muslim retired professional Mixed Martial Art champion with record-breaking stats of 29-0. Khabib became the media sensation when he became the UFC lightweight champion. Before retirement, He has a record of 13-0 in the UFC lightweight championship. Khabib is 0ccasionaly called by the nickname of, "The Eagle".
Early Life of Khabib Nurmagomedov
Khabib had an interest in boxing from his childhood. He grew up in a family where Mixed Martial Art was a tradition for years. Khabib's father, Abdulmanap Magomedovich Nurmagomedov was a decorated coach for combat sambo who instilled the love for boxing in Khabib.
Khabib started training at a very early age with the other students of his father for combat sambo. He was born in 1988, in the mountain village of Sildi of Dagestan, Russia. He started his training for boxing with passion and love. When Khabib was young, his father moved the family from village to town to facilitate Khabib's training.
According to Khabib Nurmagomedov, in childhood, once he saw a video of MMA wrestling which inspired him so much for the sport. Khabib had grown up with the hardship and love of nature. He was very passionate about the sport and give his everything to become the best. He is considered one of the most popular MMA fighters in history and the most popular Russian athlete also.
Career
In 2005, Khabib started to go for combat sambo with his father. He had done great in this sport by becoming the Champion of Russia and winner of the two-time World Sambo Championship.
MMA
After an amateur career, Khabib debuted for professional Mixed Martial Art (MMA) in the year of September 2008 after the date of his Birthday. He fought against Azerbaijani Vusal Bayramov. In the very first fight of Khabib's MMA career, he knocked out the opponent with a submission in just 3 minutes. Khabib continued winning against other fighters because of the consistency and the great base of freestyle boxing and strong ability to grab. He started his winning streak in the debut which is rolling up to now. He had a record-breaking streak of 29-0 in MMA. 
UFC
Khabib is the first Russian fighter to compete in the UFC league. He debuted for UFC in the year 2012 against the Iranian fighter Kamal Shalorus. He continued his success at the UFC also. Khabib defeated Kamal Shalorus with a submission in the 3rd minute of the 3rd round exactly the same as Vusal Bayramov.
Khabib promoted UFC to the Russian athletes by his ongoing success. He Kept winning titles in the UFC also. The winning streak of Khabib in UFC stopped at 12-0 with retirement from Boxing for good in 2020.
Read More: Rio Open 2022: Schedule, Venue, How to Live Stream Online
Khabib Nurmagomedov Vs. Conor McGregor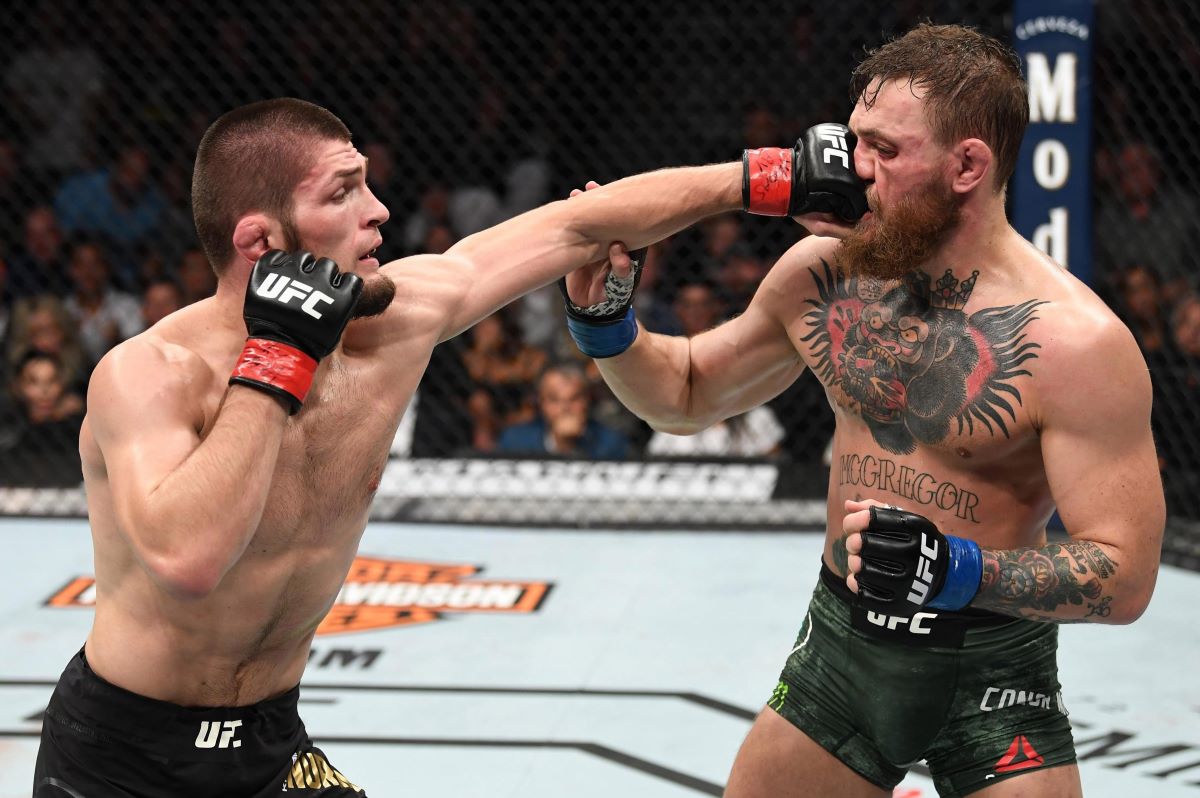 In UFC 229, Khabib faced McGregor to defend his lightweight title. This match spread heat all over the world because of the trash-talking. Conor tried to humiliate Khabib Nurmagomedov before the match in a press conference and out of the ring. Khabib kept his mouth shut and told him that he will eat Conor in the ring.
People from all over the world were waiting for the match. It was a great fight between the two fighters. But Conor couldn't stand before "the Russian Eagle". Khabib defeats Conor in the 4th round with a submission. 
Khabib created controversy when he attacked McGregor and the team after the match. He attacked Conor because he continuously humiliate his personality and his religion. Khabib is very pious and devoted to his religion. He once told to media he fights to win the hearts, not for just a belt.
"They have no idea how strong my faith for Allah is. They win the belts. I win the hearts!" 
– Khabib Nurmagomedov
Personal Life of Khabib Nurmagomedov
Khabib Nurmagomedov was born on September 20, 1988, in the mountain village of Sildi, district of Dagestan, Russia. He is 32 years old Russian Muslim of Avar ethnic and his zodiac sign is Virgo. His Father's name is Abdulmanap Magomedovich Nurmagomedov who was a famous Ukrainian Combat Sambo fighter and coach. 
Khabib married in 2013. He has 1 daughter and 2 sons. His brothers are also in the MMA and UFC. Khabib managed to put the passion to the Russian young fighter to become a professional fighter. He is the most famous athlete in Russia right now. 
Khabib announced his retirement after the death of his father who was the mentor and coach of his whole career. He put off the gloves for good after the last fight because he promised his mother to do so. Khabib is such a great sportsman who holds a great personality. He is an inspiration for hard work and consistency.
Net Worth: $2 Million USD